Houston Texans
Texans y JJ Watt recaudan fondos por inundaciones en Houston
El equipo de la NFL, su máxima figura y los New England Patriots están ayudando a la ciudad y los damnificados por el huracán Harvey.
28 Ago 2017 – 07:20 PM EDT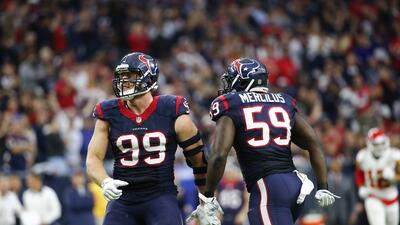 Houston Texans linebacker Whitney Mercilus (59) and defensive end J.J. Watt (99) celebrate after a play during a Wild Card week NFL game against the Kansas City Chiefs on Saturday, Jan. 9, 2016, in Houston. The Chiefs won the game 30-0. (Matt Patterson via AP)
Crédito: AP-NFL
Luego de las terribles inundaciones que se suscitaron en la ciudad de Houston tras el impacto del huracán Harvey, la NFL ha mostrado unión una vez más para ayudar a la comunidad tejana que se vio afectada por el fenómeno natural.

Los Texans anunciaron que van a donar un millón de dólares al fondo de alivio de inundaciones de United Way of Greater de Houston.

NFL Foundation está haciendo coincidir la donación de los Texans para los damnificados y el propietario de los New England Patriots, Robert Kraft, equiparará hasta 1 millón de dólares en donaciones a los esfuerzos de ayuda de la Cruz Roja Americana en la región.

El defensivo estrella de los Texans J.J. Watt ya ha recaudado $ 500,000 en fondos de alivio de inundaciones como parte de su meta de $ 1 millón, la cual anunció con un video a través de las redes sociales.
Crushed the 500k goal in less than 24 hours. I've raised the goal to 1 million. Your support has been truly...

Posted by JJ Watt on Monday, August 28, 2017